Autonomous Hydrophone Systems and Acoustic Tags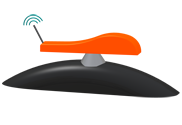 Cetacean Research Technology offers two types of autonomous underwater recording instruments. The first type, manufactured by CRT, is the Remote Underwater Digital Acoustic Recorder (RUDAR™). The second type is the Acoustimetric Acousonde™, which is a suction cup attached acoustic tag for cetaceans. All of our autonomous underwater recording systems are designed for easy use and have field replaceable batteries.
SpectraPLUS software can be added to any of the systems which do not already include it.